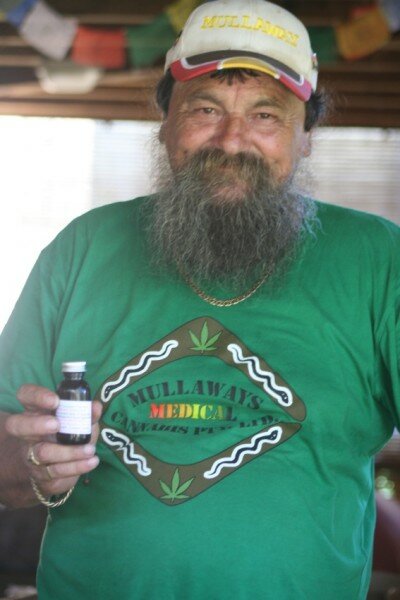 MULLAWAYS MEDICAL CANNABIS JUDGED THIS TUESDAY IN KEMPSEY
Supporters of Tony Bower and his medical cannabis tincture are driving to Kempsey this Sunday and Monday ( April 21/22 ) to finally witness his case being heard in Kempsey Court on Tuesday, after several false starts.
Protestors will be assembling in front of the Court House at 9.30 am.
Tony is charged with growing almost 200 plants. He has been supplying free tincture to several hundred patients, most with cancer, for several years now and has applied for a license with the TGA. The Mullaway crop was taken by police as it was about to be harvested.
Nimbin HEMP Embassy President Michael Balderstone is urging people to see the footage for themselves."Since Tony was on television in Queensland a few weeks ago in a story where his tincture stopped a seven year old child from having her epileptic fits, the HEMP Embassy gets a dozen phone calls a day and people driving for hours to get here hoping to get some of the medicine.
The girl had been suffering from these horrid seizures since she was six weeks old! No one would want to stop her getting such relief?"
Mullaway on Today Tonight
"We desperately need some decent politician to put medical cannabis on the agenda because the word is out about the healing powers of this plant. It's not just hippies talking now, it's the internet.
Since half of America now has legal medical cannabis there are stories emerging daily of, not miracle cures, but cannabis cures. It has become an extremely unpleasant job for the volunteers at the HEMP Embassy having to tell these people we cannot help them."
"Every plant the Police took from the Mullaways medical crop was labelled for a patient, every patient has a doctors letter. He's written countless letters and applications in years of trying to get a sane hearing.
Tony promises his work will go on regardless and as more and more people take advantage of the knowledge on the internet on making your own tincture, it's hard to argue with him."
Tony Bower will be at Nimbin MardiGrass over the weekend of May 4 and 5 if he is not in Jail. Tincture making workshops will be held on both days.
HEMP Embassy or
Tony Bower
www.mullawaysmedicalcannabis.com.au
Tuesday 23 April at 9.30am, Kempsey Court House.