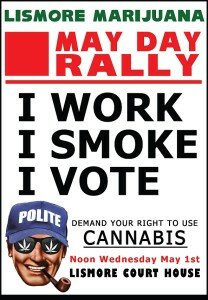 MAYDAY MardiGrass MARCH Lismore Court House Midday.
Nimbin's annual gathering of cannabis law reformers begins on MayDay, May 1st in Lismore with a march from the Court House at midday to deliver a message to the Police and local Politicians its time for a reality check on how we use and pay for the Nations Health.
Big Pharma has everyone bluffed and we need to stand up to their greed. Who ever stands in the way of an epileptic childs seizures being stopped, almost instantly, with no side effects, is a very heartless and sick soul. But that is exactly what is happenning with Tony Bower locked up in Kempsey Court.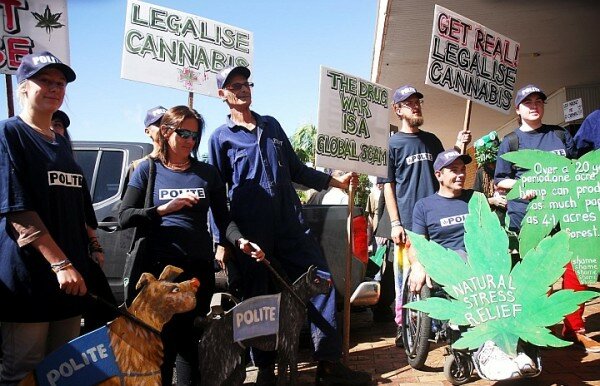 "Doctors should be marching with us tomorrow, and the Police, and the Hoteliers. Instead of being opposed to medical cannabis they should be helping make the change happen. Dont believe me regarding the magical healing benefits of medical cannabis, ask Google," says Michael Balderstone, President of Nimbins HEMP Embassy, which is being hounded these days he says by people wanting access to the healing properties of Cannabis.
"The words out there now, especially on the internet, about the anti-cancer properties of Cannabis especially, but it is good for so many ailments."
Tomorrow we march from Lismore Court House to the Police Station (Next Door), then to the office of our local Federal MP Janelle Saffin, and on to the office of our NSW representative, Thomas George, to deliver them requests to treat us and our choice of medicine as part of everyday life – not a criminal matter. We will give each of them a DVD of the Today Tonight footage.
The MardiGrass weekend proper begins Friday May 3rd at dusk with the Bundjalung Custodians and the Opening Ceremony followed by the Pickers' Ball on our new stage in Plantem Park!
"There is a lot of anger and frustration in the air with Tony Bowers being jailed last week, but beside that we are optimistic that at last change is in the air. Obamas unashamed enjoyment of the herb has helped rollout massive changes in America with half the land now legalised for medical cannabis, and recently Washington State and Colorado voted to completely legalise the plant. American opinions on whether cannabis should remain a criminal offence have reversed since it became available and the reefer madness lies were exposed."
"Don't believe the hippies, ask Google! " says Michael.
MardiGrass this year is in a whole new venue in the middle of the village. It's private property behind the Nimbin Hall and the HEMP Embassy, a natural amphitheatre which we think will be perfect for the HEMP Olympix events, the Bong Throw, Growers Iron Person, and Joint Rolling.
There are 4 major Mind Candy Forums in the Town hall, Enlightened Activism, Imagining Nimbin After weed is Legal, Is it Medication Time and Cannabis as an Entheogen, plus a number of other workshops and talks including how to make your own tincture and hash.
There's 3 stages with a long list of musicians and performers including Chocolate Strings, Die Rude, Floating Bridges, The Rusty Datsuns, CC The Cat, Warchief, Anarchist Duck, Dubarray, Diana Anaid and about fifty other groups and individuals too many to mention.
Then there's the Kombi Konvoy and Million Marijuana March, Pot Poetry, Pot Art, the Beard Expo, Pot Tattoo, MardiGrass Markets, Hemp Farmers Patch, and much much more, most of which is on http://www.nimbinmardigrass.com/2013/program13.html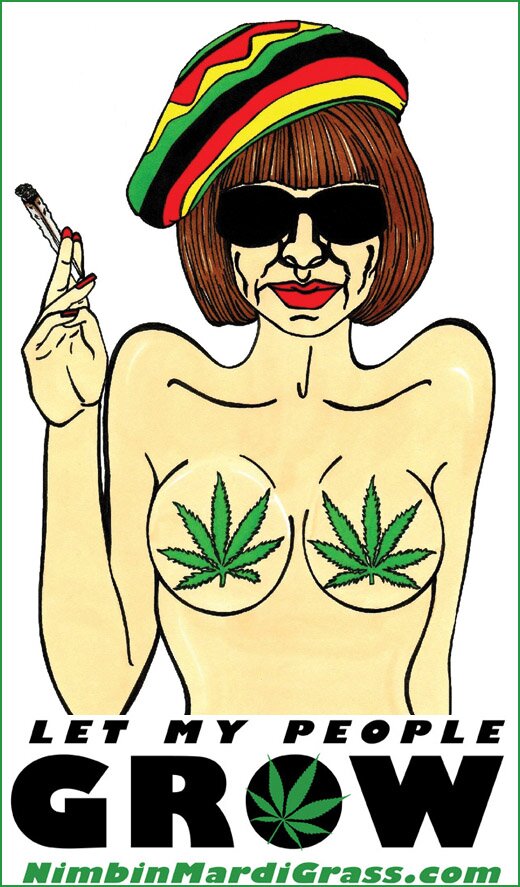 Further Info HEMP Embassy
Please take the time to look at the YouTube below….
Since Tony was on television in Queensland a few weeks ago in a story showing that his tincture had stopped a seven year old child from having her (Dravet Syndrome) epileptic fits, the HEMP Embassy has been receiving a dozen phone calls a day and people have been driving for hours to get here just in the hope of getting some of Tony's medicine.
The girl featured (on the television program – link provided) had been suffering from debilitating seizures since she was six weeks old! Surely no one would want to stop her getting such relief?
Mullaway on Today Tonight
www.mullawaysmedicalcannabis.com.au
Significantly her parents discovered on the internet American parents in the same boat who were getting awesome results with their own children since Medical Cannabis became available there.
We desperately need some decent politician to put medical cannabis on the agenda confirming the healing powers of this plant. It's not just hippies talking now, it's on the internet and being embraced by people from all walks of life.
Now that half of America has legal medical cannabis there are stories emerging daily of, not miracle cures, but cannabis cures for a number of ailments. Every plant the Police took from the Mullaways medical crop was labelled for a patient and every patient has a doctors letter. Tony has written countless letters and applications in years of trying to get a sane hearing from the authorities.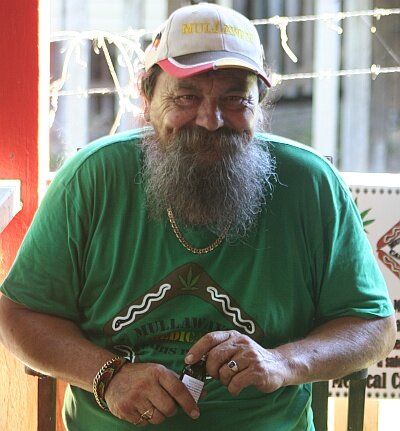 Tony promises his work will go on regardless and as more and more people take advantage of the knowledge on the internet on making your own tincture, it's hard to argue with him. Tincture making workshops will be held on both days of MardiGrass and his incarceration just increases our resolve for justice.
Nimbin is home to hundreds of good people who have been in jail or have criminal records for loving this plant. For a long time Nimbin has been attracting individuals who, one way or another, have discovered Cannabis is a medicine that works for them.
They might have a terrible illness like epilepsy, or cerebral palsy, or Crohn's disease or they get migraines or have arthritis or cancer or whatever, but they discover marijuana is like a magic pill with few negative side effects. America's laws have changed because the people kept demanding justice and a fair go, which is exactly why we gather at MardiGrass.
Please come and join our protest for what is the greatest social disaster of our time, the "war on drugs."
DONATE TO THE MULLAWAYS LEGAL FUND DETAILS
Tony (Mullaway) Bower has been given twelve months jail and may be out in nine months with good behaviour. An appeal would still see him in jail till June.
The Magistrate said there was no provision in the law for what he was doing and he felt obliged to give him a sentence in line with existing penalties, and an appeal was promptly lodged. The Magistrate refused bail, saying Tony had shown no remorse and would continue to offend if given bail.
A barrister has now been retained, and we are trying to get Tony out sooner by applying to the Supreme Court for bail.
For donations to Tony's Legal Fund, please deposit into this account:
Alan Salt
Summerland Credit Union
Account
---